News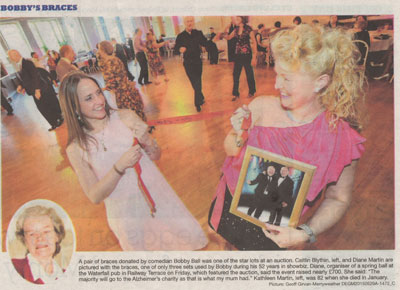 We are in August edition of The Derbyshire Magazine
10
Ten years Dance In time school of dance officially opened 5th September 2006.
It all started with a notebook with a picture of a pair of dance shoes on the front of it, a school built up from the first blank page, which soon became full of goals, ambitions and things to do. The name was formed and Miss Lorna Daly designed the logo, which was her maiden name at the time. We started with five employees and a few helpers. Caitlin Blythin shared in the planning of the school and was the first person to come on board and assist me with the teaching, even though the past ten years saw her get married and have two lovely children she still remains part of the school today.
Mrs. Sharon Tapping was my other teacher who helped us with the name of the school. Mrs Sandra Stevenson-Revill designed and maintains our website and continues to do so today. Craig & Helen set up the Facebook page not only did they start off as pupils they became staff. Graham Smith a former employee helped out with our Children's classes and was our music man on many occasions, Lynn his wife and Jean his wife mother assisted in many classes.
My aim was to bring a new dance school that not only focussed on pupils having fun and enjoy learning how to dance but a school that would see a medal test and maybe two or three events a year with live entertainment. Somehow I made in happen and over the past ten years we started with our first Christmas Ball with our special Guest Clayton Mark as Elvis Presley who is currently on the Kings & Queen of Rock & Pop in Blackpool. Caitlin and I were interviewed on BBC Radio Derby, The year after saw our first Spring Ball at The Derby Assembly rooms with the Strictly stars Anton du Beke & Erin Boag, to follow Ian Waite and Camilla Dallerup. We then moved to The Darwin Suite at the Assembly rooms where our next Strictly stars were Vincent Simone & Flavia Cacace, to follow we had the Supadance stalls in plus Darren Bennett and Lilia Kopylova. Our next Spring Ball we hired Rolls Royce and our big star was Brian Conley. As well as the fabulous acts we have worked with the legends of Motown Denni Harris from the Drifters, Simon Abbotts as Tom Jones, Ricky Arthur as Michael Buble, The Kasuals, Paul Priestley as Elvis & Legends.
We have worked with many other dance schools raised lots of money for charity we have worked with many competitor dancers who have given us wonderful Dance Demonstrations. We have done many For Hires worked in Residential homes armchair dancing performed at there plus we have performed on three occasions when the new Westfield shopping centre opened which since has change its name. We launched our own magazine in 2007 to raise funds for charity.
Over the past ten years we have always raised funds for various charities and continue to do so today.
Wow ten years on and I feel as though we have accomplished and achieved so much so a massive THANKYOU TO everyone who has been involved and a very Special THANKYOU to all the pupils past and the present ones that remain with us its all down to you because without you we would not be here. It's all about taking that first step and when you do it grows into more steps then it hits you you've got the bug and it's very infectious. I was once asked what makes a good teacher and I always refer to the little recipe I was given for a terrific teacher
3 cups of intellect
¼ cup of patience
1 tsp of leadership
Mix together with enthusiasm. Add a dash of learning & comprehension adds passion and oomph.